You need to provide
BLOOD,URINE
This test is for
Male,Female,Child
Test Preparation
There is no test preparation
Overview
A very common illness; Fever could be an underlying symptom for something simple like a viral flu to something complicated like malaria. Our fever profile includes a combination of tests to identify cause for this ailment.
CBC
ESR
QBC
WIDAL FOR TYPHOID / Salmonella typhi (Typhoid) IgM Method : Immunochromatography
URIN R/M
Tests Included
(includes 6 tests)
CBP (Complete Blood Picture)
ESR (Erythrocyte Sedimentation Rate)
Malarial parasite Identification By QBC
Widal Test (Slide Test)
CUE (Complete Urine Examination)
Salmonella typhi (Typhoid) IgM Method : Immunochromatography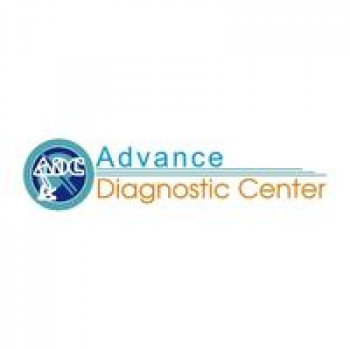 ADVANCE DIAGNOSTIC CENTER
C1-C2/17A, KOSABADI NEAR NIHARIKA TALKIES, IN FRONT OF NAGAR NIGAM ZONE, NIHARIKA, KORBA 495677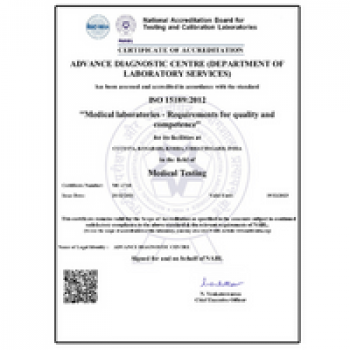 NABL Accrediation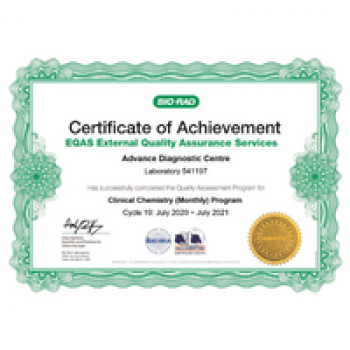 EQAS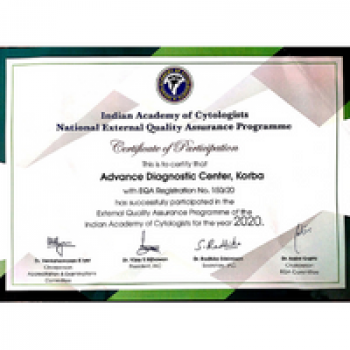 CYTOLOGY
HISTOPATOLOGY
In a District with innumerable Pathological Centres/ Laboratories, we have made quality our top differentiation. Services are provided through full automation, regular calibration and control checks, standardized imported reagents, authorized by qualified personnel. A cross check mechanism for result processing is done to ensure that a wrong report never goes to a patient.
Advance Diagnostic Centre was established in 2007. During this span of time pathology lab has successfully developed itself into a centre of excellence in laboratory medicine by adopting latest techniques, including highly skilled professionals and introducing latest state of art analyzers with backup facility.
At ADC Lab we understand the requirements of the patient and the Clinician and it has been our endeavor to constantly provide the best possible solutions. Our professional approach and commitment to quality ensures that the test is completed without any time or cost overruns, offering different kinds of services for your valuable time as well as your money.
Dr (Mrs.) Vandana Chandani, The Director believe in the Maxim-Quality is not a one - letter word but it should exist at all stages right from collection of samples to final release of the report.
Know More